Cornerstone and M Financial
Making the Difference for Affluent Families and Individuals
Cornerstone and M Financial offer collective buying power and superior experience in mortality, persistence, and policy size that results in exclusive pricing for our proprietary products for our clients.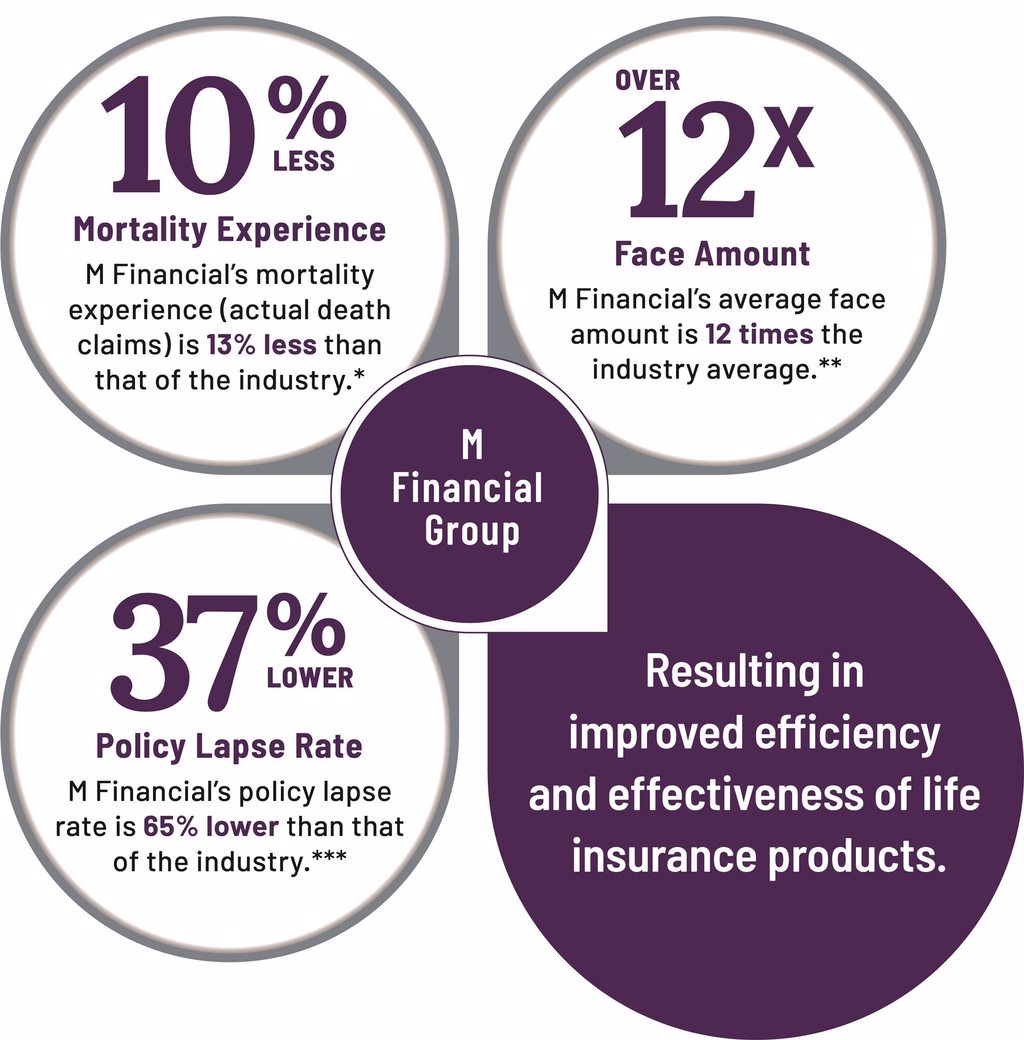 A Service for a Select Few
Cornerstone is part of an exclusive network of 130+ M Financial firms serving the U.S., Canada, and the U.K.
M Financial Group is one of the nation's premier financial services design and distribution companies serving the affluent and corporate markets.
The experience of more than 270 financial professionals
As a member of M Financial Group, Cornerstone leverages the experience and specialization of not only our own seasoned insurance professionals but also that of more than 270 M Financial professionals, including accountants, underwriters, insurance product development and management professionals and more than 17 full-time actuaries, to support the needs of our clients.
Our Unique Relationship with Carriers Means Better Products for Less
M Financial Group underwrites 43 percent of all insurance policies for affluent individuals. With a face amount of $186 billion in policies currently in force, representing a cash value of $44 billion, M Financial works closely with its partner-carriers to design and develop products that meet the specific needs of affluent clients and also negotiates with carriers on behalf of those clients.
Products designed specifically for affluent clients
More than 25 proprietary products from six partner carriers


Designed and priced using M Financial's unique persistency, face amount, and mortality experience


M mortality experience (actual death claims), is 10% less than the industry high-net-worth segment, lowering the cost of M proprietary life insurance products


Affluent customers like you have more time to take care of their health, receive better healthcare, and live longer than the general population. Why should you pay the same rates?


M policies are seven times the average face value nationally, lowering premiums for our clients


The lapse/surrender rate of M Financial's proprietary products is nearly 37% lower than that of the industry, driving policy fees lower


M Financial proprietary insurance products are reinsured by M Financial Re, which invests in excess of $50 million a year in the business placed by M Financial Group member firms
*Source: Society of Actuaries Individual Life Experience Report (2018) and M Financial Group (Observation years 2003–2019).
**Source: A.M. Best Company Best's Statement File (2021) and M Financial Group.
*** Source: Society of Actuaries: Lapse/Surrender and Premium Persistency Experience for Flexible Premium Universal Life Products (September 2018), and M Financial Group (Observation years 2003-2019)